2018 World AI Industry Development Blue Book releases, Tongdun Technology an influential player in global AI industry blueprint
The 2018 World Artificial Intelligence Conference with the theme of "The new era of artificial intelligence empowerment" was held in Shanghai on September 17. Centering on cutting-edge technologies, industrial trends and hot topics in AI field, the most influential AI scientists, entrepreneurs and investors, related government leaders and city managers delivered speeches and held high-end dialogues.
At the main forum on the first day, the China Academy of Information and Communications Technology (hereinafter referred to as "CAICT") and consulting agency Gartner jointly released the 2018 World AI Industry Development Blue Book (hereinafter referred to as "the Blue Book"), which covers topics of industry development environment, technology environment, world AI enterprise conditions, global investment and financing status quo and industry development situations. The Blue Book comprehensively and profoundly analyzed the development, technology path and trends of AI industry across the world.
In the chapter introducing the industry development, the Blue Book divides AI industry development technologies into smart hardware, machine vision technology, smart voice technology and natural language processing. It is estimated that the scale of the global potential market of smart hardware and machine vision technology will reach USD80 billion and USD25.32 billion respectively by 2023. The market scale of natural language processing will reach USD16 billion by 2021.
In terms of industry development, the Blue Book shows that the AI-based ecosystem has become the major application field for AI industry development. Currently AI technologies are empowering medical treatment, finance, retail, education, household, agriculture, manufacture, cybersecurity, human resources and security fields, greatly promoting the improvement of traditional procedures, working efficiency, performance and the reduction of costs and becoming the core drive for a new round of science revolution and industry reform.
The Blue Book mentioned some representative enterprises in each field. Tongdun Technology, with its remarkable contribution and core competitive advantage in smart risk management, has been mentioned as the model enterprise in the chapter of AI+ Finance and AI+ Cybersecurity.
AI + Finance
As for empowering finance industry, AI technologies can be applied in Robo-Advisor, credit investigation and risk management, financial search engine, insurance, authentication and smart customer services. Finance industry greatly relies on data. With the combination of AI technologies and finance industry, the big data-based AI technologies can boost the smart upgrading of fintech. In addition to providing users with more comfortable, convenient and safer services at the front office and helping in finance transaction, credit and analysis decision-making at the middle office, it will also be useful in identifying, pre-warning, preventing and controlling various risks at the back office. Generally, AI technologies will profoundly reconstruct the existing finance landscape and make financial services including banking, insurance, wealth management, loan and investment more user-friendly and smart.
The PwC 2017 Global Digital IQ Survey shows that the information utilization rate in global financial service industry is 26%, a relatively low level compared to other industries. According to report from MarketsandMarkets, the AI fintech global market scale will increase from USD1.338 billion in 2017 to USD 7.306 billion in 2022, a compound annual growth rate of 40.4%. The New Generation Artificial Intelligence White Paper 2017 predicts that the scale of China's smart finance industry will reach USD800 million.
At present, the scenario application in finance industry, such as Robo-Advisor, smart customer services, smart risk management and authentication are at different stages. In each field, there are some emerging excellent tech enterprises.
Tongdun Technology focuses on smart risk management and it is regarded as the benchmark enterprise in domestic smart risk management area in the Blue Book. Tongdun Technology can provide finance institutions with end-to-cloud integrated solutions, covering the whole life circle of credit and loan (including pre-loan, loan in and post-loan management). In recent years, Tongdun Technology continues its in-depth cooperation with banks, setting multiple great examples in the industry.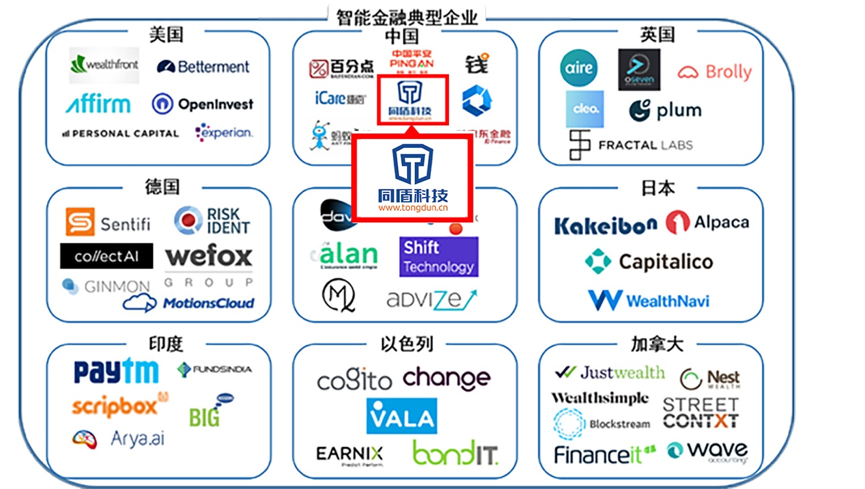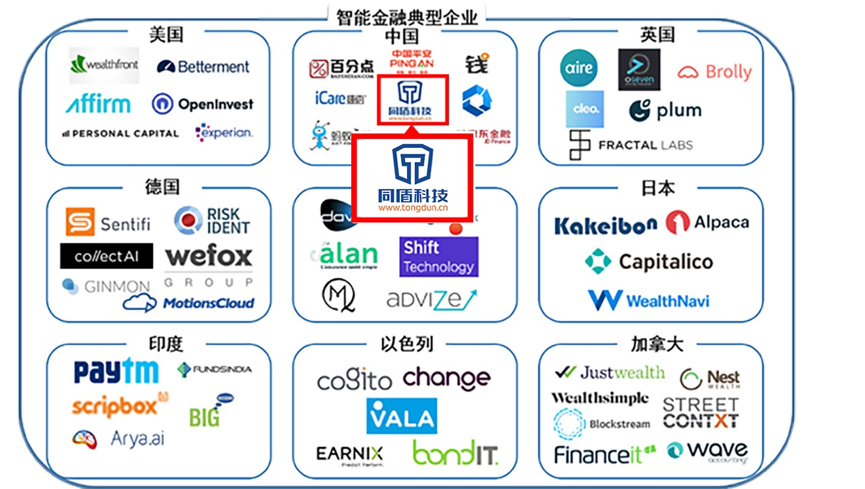 AI + Cybersecurity
With empowerment of AI technologies in the whole area of Internet, manufacturers, enterprises and individuals are enabled to effectively improve their capability to handle online fraud, hostile attack and other cybersecurity problems. AI technology owns some special advantages in network defense, which makes it a breakthrough point for AI cybersecurity. Currently smart cybersecurity is mainly applied in: online supervision (including real time identification, response and defense for online attack, security flaw and system failure prediction and cloud security assurance); prevention of the malware and malicious files execution; improvement of the operation efficiency of the safety center; network anomaly detection; application security verification and Internet risk appraisal, etc.
According to Technavio's latest market research report, the scale of the global smart cybersecurity reached USD4.96 billion in 2017. The predication was based on the compound annual growth rate of above 29% from 2018 to 2022 for global AI cybersecurity market.
Fraud and risk verification is another important application in cybersecurity. DataVisor and Drawbridge from the U.S. and Feedzai from Portugal all have business layouts in this field. In recent years, China's smart cybersecurity enterprises are rising as well. Of all the emerging smart cybersecurity companies in China, TuringSec and 360 Total Security provide network defense and anti-virus services; and Tongdun Technology offers anti-fraud services.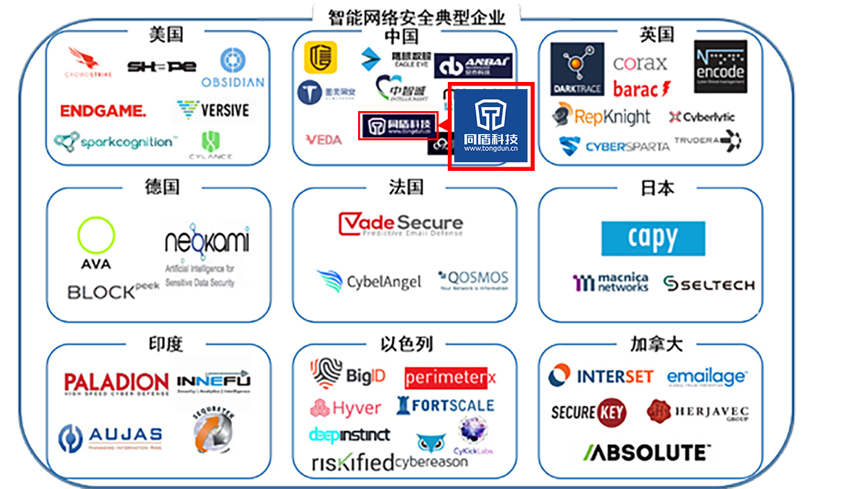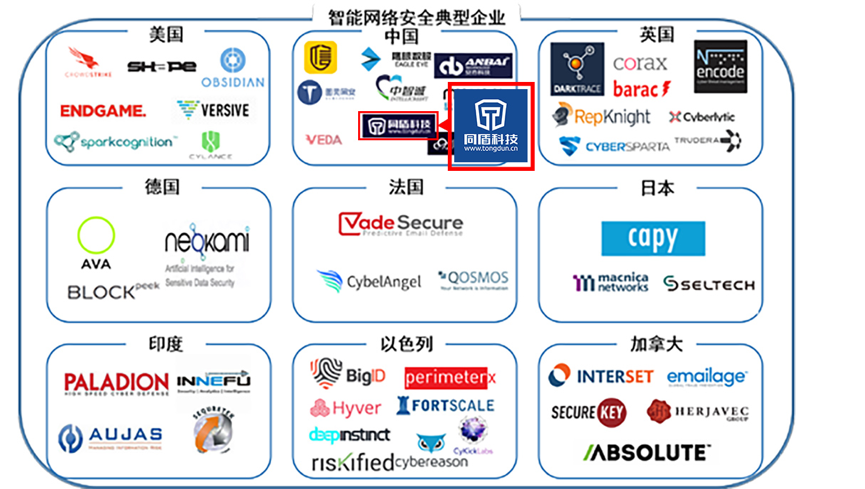 Based on in-depth and wide investigations on the development of global AI industry, the Blue Book analyzes key AI technologies, enterprises, industry application and future trends through clarification on the development situation of AI technologies, industry and application. The Blue Book is a guide and inspiration for practitioners, researchers and enthusiasts in AI field.
In the Blue Book, Tongdun Technology stood out from all the representative enterprises from home and abroad, demonstrating the company's achievements and innovations in smart risk management and anti-fraud field as well as Chinese enterprises' great advancement in AI competitive strength. In the future, Tongdun Technology will keep focusing on empowering enterprises with innovative technologies and contributing more Tongdun-exclusive solutions to AI industry.