Wuzhen World Internet Conference | Tongdun's Jiang Tao Speaks About the Financial Intelligence Transformation in the Digital Economy Era
From the 7th to 9th of November 2018, the 5th World Internet Conference attracted leading figures from government institutions and international organization along with business people from many important global Internet enterprises.
As a leader in the intelligent risk Management field, Tongdun Technology's founder and CEO, Jiang Tao, was invited to give a keynote speech entitled Financial Intelligence Transformation in the Digital Economy Era.
Financial Intelligence Is an Important Engine of Development in the 
Digital Economy Era
Concerning China's championing of "Internet+" in 2015 and the development of the digital economy proposed in 2017, Jiang Tao believes that, "The infrastructure we have built over the past 20 years, today, provides us with an excellent foundation for digital economic development. At present, basically all sectors, including finance, education, retail, and logistics, are going through a digital revolution. After this is completed, the various industries will next face a revolution in intelligence. Financial intelligence will be the most important part of this process and will serve as an important driver of development in the digital economy."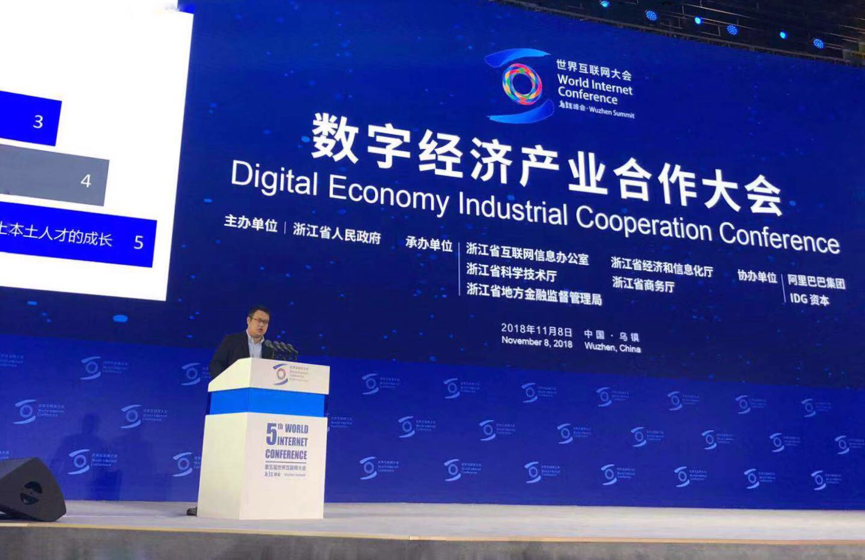 The financial industry is already one of the most highly digitalized industries. Naturally, 
its digital attributes and the massive volumes of data accumulated in the industry will provide an excellent foundation for the financial intelligence transformation.
With the computing power of AI chips increasing by leaps and bounds and the constant innovations in machine learning algorithms, financial intelligence is entering a period of rapid development. The return of many talented people from overseas and the rise of home-grown talent have further accelerated this transformation.
We Are In the Midst of a Transformation in Financial Intelligence
Jiang Tao discussed applications of the financial intelligence transformation in five major business scenarios: intelligent marketing, intelligent risk control, intelligent investment consulting, intelligent collections, and insurance technology.
Intelligent Marketing: Reaching Customers More Precisely
Overseas companies have already achieved a high degree of sophistication in the field of intelligent marketing. For example, Capital One can mail credit cards to customers before they even apply, using an algorithm to determine which customers are most likely to apply for a credit card within the next three months.
Intelligent Risk Control: Analyzing Fraud and Credit Risks More Precisely
There are three main types of fraud risks: account security risks, transaction fraud risks, and credit risks. Credit risks can be subdivided according to the stage at which they occur: before, during, or after a loan is made.
Tongdun provides intelligent solutions tailored to each stage in the lending process. 
The user growth service, pre-loan fraud prevention and credit risk control service, and delinquency management and intelligent collections service help Tongdun's customers successfully navigate the financial intelligence transformation.
Tongdun Technology is a third-party intelligent risk control and decision analysis service provider. The company possesses in-depth technical capabilities and a wealth of service experience in the intelligent risk control field. In 2017, Tongdun was the first to advocate for risk control based on Analytics as a Service (AaaS). By moving its risk control products to the cloud and creating a cloud-based Risk Brain, the company is constantly studying this field and enhancing its own capabilities.
At the same time, to meet the needs of different financial institution customers, Tongdun provide private deployment and complete end-to-cloud all-in-one solutions.
Intelligent Investment Consulting: Maximizing Customers' ROI
Using machine learning, algorithms, and other techniques, Tongdun performs quantitative analysis and looks at a wide range of factors to help its customers find the best financial solutions, including stocks, mutual funds, and other wealth management products. In this way, Tongdun maximizes the return on investment enjoyed by its customers.
Intelligent Collections: Increasing Collection Efficiency while Reducing Fraud Risks and Institutional Costs
Jiang Tao pointed out that China has nearly 10 million collections agents who assist banks' credit card centers and consumer finance post-lending departments by calling customers to remind them to repay their debts. This is very boring and highly inefficient work.
Intelligent collections is fundamentally changing the status quo. Compared to human collections agents, intelligent collections provide obvious advantages.
First, the labor costs for human collections agents is high. It includes wages, workspaces, recruitment, and training.
Second, the emotions of human collections agents are influenced by a variety of factors. Repeated training is required and it is difficult to ensure professionalism. Intelligent collections systems follow standard collection scripts, reducing the risk of improper language at its source.
In the early collections period from M0 to M1, and even into M2, intelligent collections 
has demonstrated great results. The licensed consumer finance institution of one large Chinese bank had a daily average of new M1 and M2 mortgages of over 20,000. To increase collections efficiency, this institution adopted Tongdun's intelligent collection product, Collection Manager. After using Collection Manager, the institution's contract recovery rate increased by 7.32% and its financial recovery rate increased by 8.87% for delinquencies of up to 1 day. For delinquencies of up to 3 days, the contract recovery rate increased by 4.24% and the financial recovery rate increased by 3.42%. These results show the product to have a very significant effect.
Intelligent Claims: Reducing the Risk of Fraudulent Claims and Fully Automating the Claims Process
Intelligent claims solves two main problems. First, it increases the automation of the claims process by using AI and other technologies to automatically process more claims within a given time period.
Second, it uses algorithms and models to identify potential and hidden fraud risks throughout the claims process. To give a conservative estimate, data suggests that 20% of Chinese auto insurance claims involve fraud. Careful research has shown that human personnel are subject to moral hazards and operational risks. According to statistics, fraud costs Chinese insurance companies hundreds of billions of RMB each year. It is difficult to rely solely on human capabilities. Currently, many Chinese enterprises are looking at how they can use intelligent techniques to upend the status quo.
Future Prospects for Financial Intelligence
At the end of his presentation, Jiang Tao discussed the future of the financial intelligence transformation. He believes that the following features will characterize this process:
1. In the future, financial institutions will continuously increase investment, using the intelligent transformation to increase efficiency and reduce costs.
2. In the next five years, 80% of financial institutions and interactive interfaces serving individual consumers will be replaced by artificial intelligence technology.
3. The intelligence transformation will not only affect business departments, but also middle offices and background departments, such as risk control, operations, compliance, auditing, finance, strategic planning, and human resources.
4. Knowledge mapping, NLP, visual and image processing, machine learning, deep learning, and other common technologies will take the form of privately deployed platforms within financial institutions.
5. Small and mid-size financial institutions will form shared private, or even public, cloud platforms.
6. Machine learning will go mainstream, the scale of deep learning will increase with the rapid popularization of easy-to-use machine learning tools (such as Caffe, TensorFlow, and CNTK), and the barriers restricting the application of AI technology will rapidly fall.
As a representative of the intelligent risk control and decision analysis field, Tongdun Technology is committed to putting its technological capabilities to use in assisting the financial intelligence transformation. Currently, Tongdun has built three major technology systems: big data, AI, and cloud computing. The company focuses on four major application scenarios, intelligent marketing, intelligent operations, intelligent fraud protection, and intelligent lending, along with all-in-one cloud-based solutions. Tongdun currently serves over 10,000 customers and looks forward to playing a leading role in helping Chinese enterprises navigate the financial intelligence transformation.